The Argo f**k-yourself bandwagon keeps rolling on for Ben Affleck as his political thriller bagged three awards at the 2013 BAFTAs including the crucial Best Film prize.
The 40 year old actor-turned-filmmaker also won Best Director for his helming of the film with BAFTA being the latest awards groups to show their support to him following his shock snub at the Oscar nominations last month. On collecting the award, Affleck said this:
"This is a second act for me. You've given me that, this industry has given me that and I am so grateful and proud and I dedicate this to anyone out there who is trying to get their second act because you can do it."
The Best Film win also allowed actor-producer George Clooney to finally claim his first BAFTA at the ninth attempt for his involvement with the film which also clinched the Best Editing prize.
But the most wins on the night went to the British-made musical epic Les Misérables which was awarded four gongs including another Best Supporting Actress win for Anne Hathaway in her role as the tragic factory worker Fantine. Her competition included Amy Adams (The Master), Dame Judi Dench (Skyfall) and Sally Field (Lincoln). It also triumphed in the technical categories for Best Production Design, Best Makeup and Best Sound.
However it missed out on the Best British Film award as the voters opted to go for the James Bond blockbuster Skyfall which also landed the Best Music prize for composer Thomas Newman.
Despite leading the nominations with twelve mentions, Steven Spielberg's historical biopic Lincioln walked away with just the one win for Daniel Day-Lewis who eased to his fourth BAFTA success for his lead role as President Abraham Lincoln. His competition included Bradley Cooper (Silver Linings), Hugh Jackman (Les Mis) and Joaquin Phoenix (The Master).
Awards love was also shared between many films on a night with the odd few shocks and surprises. Hollywood beauties Jessica Chastain (Zero Dark Thirty) and Jennifer Lawrence (Silver Linings) both missed out on Best Actress which was given to French veteran Emmanuelle Riva (a no-show at the ceremony) for her role as a dying old woman in the Austrian drama Amour (also winner of the Best Foreign Language film category). However Silver Linings Playbook did beat out Argo and Lincoln to clinch the Adapted Screenplay award for its director-writer David O.Russell though ZD30 went home empty-handed.
Django Unchained earned Christoph Waltz his second Best Supporting Actor award for his performance in the violent western with another director-writer Quentin Tarantino receiving the Best Original Screenplay prize. Waltz's competition in his category included Javier Bardem (Skyfall), Philip Seymour Hoffman (The Master) and Tommy Lee Jones (Lincoln). Ang Lee's fantasy drama Life of Pi bagged two wins for Best Cinematography and Best Visual Effects while there were solo wins for Anna Karenina (Best Costume Design), Searching for Sugarman (Best Documentary) and Brave (Best Animated Film).
Juno Temple saw off the likes of Andrea Riseborough and Suraj Sharma to win the Rising Star award while British director Alan Parker became the latest recipient of the BAFTA fellowship for his forty-year career with films such as Bugsy Malone (1976), Midnight Express (1978), Fame (1980), The Commitments (1990) and Evita (1995).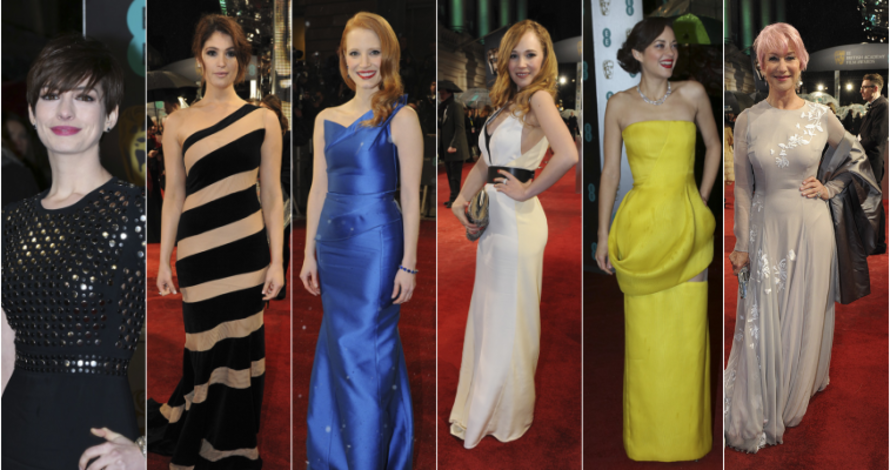 Fans overcame the torrid weather to watch their favourite stars walk the red carpet (been there done that!) with Stephen Fry providing his usually witty and eloquent speeches while hosting the ceremony. But with Argo and co. enjoying success last night, the attention now turns to Oscar which is only a fortnight away….
The full list of BAFTA winners are below:
BEST FILM
Argo
OUTSTANDING BRITISH FILM
Skyfall
DIRECTOR
Ben Affleck – Argo
LEADING ACTOR
Daniel Day Lewis – Lincoln
LEADING ACTRESS
Emmanuelle Riva – Amour
SUPPORTING ACTOR
Christoph Waltz – Django Unchained
SUPPORTING ACTRESS
Anne Hathaway – Les Misérables
ORIGINAL SCREENPLAY
Quentin Tarantino – Django Unchained
ADAPTED SCREENPLAY
David O. Russell – Silver Linings Playbook
ORIGINAL MUSIC
Thomas Newman – Skyfall
CINEMATOGRAPHY
Life of Pi
EDITING
Argo
PRODUCTION DESIGN
Les Misérables
COSTUME DESIGN
Anna Karenina
MAKEUP & HAIR
Les Misérables
SPECIAL VISUAL EFFECTS
Life of Pi
ANIMATED FILM
Brave
OUTSTANDING DEBUT BY A BRITISH DIRECTOR, PRODUCER OR WRITER
Bart Layton (director), Dimitri Doganis (producer) – The Imposter
FILM NOT IN THE ENGLISH LANGUAGE
Amour
DOCUMENTARY
Searching for Sugarman
SHORT ANIMATION
The Making of Longbird
SHORT FILM
Swimmer
EE RISING STAR AWARD
Juno Temple