Well that's that then. Last night brought the curtain down on another incredible awards season as the glamour and talent of Hollywood came together and poured into the Dolby theater to toast the best of the film industry at the 85th Annual Oscars.
In what was a night of few shocks, some predictability and plenty of music and laughs, the Academy lavished awards love on many films in contention at this year's ceremony.
However it was Ben Affleck who had the last laugh as the ridiculed actor-turned-acclaimed director celebrated success in the Best Picture category (along with producer George Clooney who was awarded his second Oscar triumph). Despite being snubbed for a Best Director nomination, Affleck's real-life thriller Argo landed the hugely coveted Best Picture award as well as securing wins in Best Adapted Screenplay for writer Chris Terrio and Best Editing. In rather audacious fashion, the award was announced via web-link by First Lady Michelle Obama who read out the result at the White House with the support of Oscar-winning legend Jack Nicholson.
Affleck delivered an emotional speech in which he thanked everyone involved on the film as well as his wife, Hollywood actress Jennifer Garner. He then it rounded off by talking about how hard he had worked in Hollywood to finally earn the respect from his peers.
"I'd just like to say, I was here 15 years ago or something and I had no idea what I was doing. I stood out here in front of you all and really just a kid. I went out and I never thought I would be back here. You have to work harder than you think you possibly can. You can't hold grudges — it's hard, but you can't hold grudges. And it doesn't matter how you get knocked down in life; that's going happen. All that matters is you've got to get up."
As well as Argo's Best Picture success, seven of the eight other films nominated for Best picture all had the fortune of winning at least one award showing that the Academy were prepared to spread the love. Indie drama Beasts of the Southern Wild was the only nominee to be shut out. However it was the fantasy drama Life of Pi that ended up with the most wins as it claimed four awards including a surprise second Best Director win for film-maker Ang Lee. He beat off the much-fancied Steven Spielberg who missed out on his third win for his direction of Lincoln. Pi also secured gongs for Best Cinematography, Best Visual Effects and Best Original Score.
Spielberg's Lincoln struggled for much recognition on the night with just two wins from twelve nominations for Best Production Design (a long-shot win) and as predicted, a triumph in Best Actor for Brit Daniel Day-Lewis as he made Oscar history by becoming the first male performer to win three Best Actor awards for his role as President Abraham Lincoln. He beat off competition from the likes of Bradley Cooper (Silver Linings), Hugh Jackman (Les Miserables), Joaquin Phoenix (The Master) and Denzil Washington (Flight). Upon receiving his acting award from fellow three time Oscar-winner Meryl Streep, the Brit delivered a witty speech and jokingly said that he was close to playing Streep's role as Margaret Thatcher in last year's political biopic The Iron Lady.
Jennifer Lawrence capped off a fantastic last twelve months as she was awarded Best Actress for her role as dysfunctional young widow Tiffany in the romantic dramedy Silver Linings Playbook. However she almost embarrassed herself when she tripped on the stairs while going to collect the award. She won the gong over Jessica Chastain (Zero Dark Thirty), 86-year old Emmanuelle Riva (Amour), nine-year old Quvenzhane Wallis (Beasts of the Southern Wild) and Naomi Watts (The Impossible).
Quentin Tarantino's violent western Django Unchained landed two awards as the controversial film-maker won his second accolade in Best Original Screenplay for his writing while German actor Christoph Waltz also received his second Best Supporting Actor award (having previously triumphed in the same category for his role in Inglorious Basterds) for his performance as bounty hunter Dr. King Shultz. He held off competition from Alan Arkin (Argo), Robert De Niro (missing out on his third acting win for Silver Linings), Philip Seymour Hoffman (The Master) and Tommy Lee Jones (Lincoln).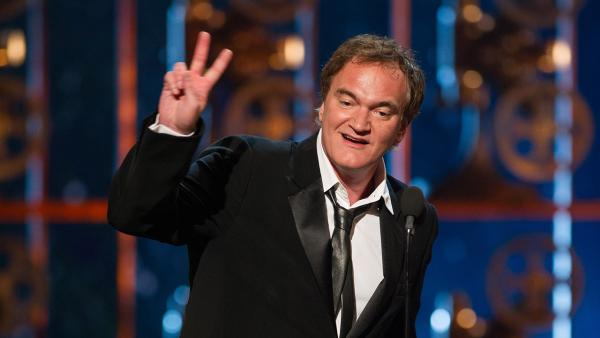 Musical extravaganza Les Miserables was awarded three wins including a comprehensive Best Supporting Actress win for Anne Hathaway in her devastating performance as tragic factory worker Fantine as well as victories for Best Makeup and Best Sound Mixing. As predicted, she gave an emotional speech thanking everyone on the film before concluding by saying "someday in the not too distant future, the misfortunes of Fantine will only be found in stories and never in real life. Thank you."
Hathaway overcame Amy Adams (The Master), Sally Field (Lincoln), Helen Hunt (The Sessions) and Jacki Weaver (Sivler Linings) to pick up the accolade.
Les Mis was also part of the Oscar ceremony's incredible tribute to musicals as the whole cast (including Hathaway and her co-stars Hugh Jackman, Russell Crowe, Amanda Seyfried and Eddie Redmayne) performed a medley of the iconic 'One Day More'. 2002 Best Picture winner Chicago was part of the tribute as Catherine Zeta-Jones donned the Velma Kelly costume to sing her rendition of 'All that Jazz' before later presenting the Music awards with her co-stars Renee Zellweger, Richard Gere and Queen Latifah. Dreamgirls was also represented as Jennifer Hudson belted our her stunning rendition of 'And I'm Telling You' while legendary singer/actress Barbara Streisand sung her classic theme song 'The Way We Were' as part of an emotional dedication to the late composer Marvin Hamlisch during shthe In Memoriam segment.
It was also a memorable night for the James Bond franchise as the Oscars presented another segment dedicated to the popular action series as part of its 50th Anniversary with Dame Shirley Bassey performing a spectacular version of 'Goldfinger'. The latest film of the series Skyfall went on to secure two wins including a Best Original Song triumph for British singer Adele as her soulful rendition of 'Skyfall' (which she sung at the ceremony) helped to continue her fantastic run of form with awards.
The blockbuster was also part of a rare moment in Oscar history as it shared the Best Sound Editing prize with Kathryn Bigelow's real life war thriller Zero Dark Thirty to become only the third time that a tie has occurred at the awards. However the film's experienced technical contributors of Roger Deakins (Cinematography), Greg P. Russell (Sound Mixing) and Thomas Newman (Original Score) all missed out on overdue first wins.
Other major award winners on the night included Palm D'or winning drama Amour which secured Best Foreign Language Feature while there were also triumphs in various other categories for Anna Karenina (Costume Design), Searching for Sugarman (Best Documentary), Paperman (Best Animated Short) and a disappointing win in Best Animated Film for the average Pixar flick Brave (which beat off the likes of Frankenweenie, ParaNorman and Wreck-It-Ralph).
The entire ceremony provided enough entertainment to satisfy audiences particularly younger ones as Family Guy creator Seth MacFarlane caused a stir with some hilarious and at times, controversial moments. Some of his funnier moments came from his opening monologue as he reenacted Flight through the use of sock-puppets while he also got some laughs from poking fun at Ben Affleck, Jodie Foster, The Sound of Music and Meryl Streep while his character Ted came on to present an award with co-star Mark Wahlberg.
However he also received groans for risky comments such as calling Django Unchained a date movie for Chris Brown and Rhianna while also ridiculing Jean Dujardin, George Clooney and the death of Abraham Lincoln. His most audacious yet edgy move was to sing a number called 'We Saw Your Boobs' in reference to several Hollywood actresses exposing themselves in films including Halle Berry, Angelina Jolie, Kristen Stewart, Charlize Theron and Kate Winslet (several of her films referenced in the hilarious song).

The full list of Oscar winners are below:
BEST PICTURE


Argo
BEST DIRECTOR


Ang Lee – Life of Pi
BEST ACTOR


Daniel Day-Lewis – Lincoln
BEST ACTRESS


Jennifer Lawrence – Silver Linings Playbook
BEST SUPPORTING ACTOR
Christoph Waltz – Django Unchained
BEST SUPPORTING ACTRESS


Anne Hathaway – Les Miserables
BEST ORIGINAL SCREENPLAY
Quentin Tarantino – Django Unchained
BEST ADAPTED SCREENPLAY


Chris Terrio – Argo
BEST PRODUCTION DESIGN


Lincoln
BEST CINEMATOGRAPHY


Life of Pi
BEST COSTUME DESIGN


Anna Karenina
BEST MAKEUP


Les Miserables
BEST EDITING


Argo
BEST SOUND MIXING


Les Miserables
BEST SOUND EDITING


*TIE* Skyfall + Zero Dark Thirty
BEST VISUAL EFFECTS


Life of Pi
BEST ORIGINAL SCORE


Mychael Danna – Life of Pi
BEST ORIGINAL SONG


Adele – 'Skyfall' – Skyfall
BEST ANIMATED FEATURE


Brave
BEST FOREIGN LANGUAGE FILM


Amour
DOCUMENTARY FEATURE


Searching for Sugar Man
DOCUMENTARY SHORT


Inocente
ANIMATED SHORT


Paperman
LIVE ACTION SHORT


Curfew
And that's a wrap folks! Thank you all for following my coverage of awards season, I will be counting down the months before the new season starts near the end of 2013. I close by saying this, "ARGO F**K YOURSELF"!