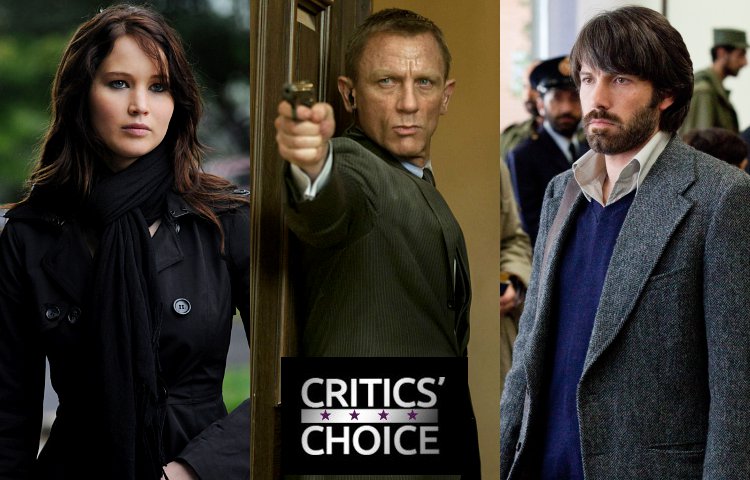 After the craziness of the Oscar nominations yesterday, there will have been many stars either celebrating (from getting a nod) or drowning their sorrows (after being snubbed) during last night's Critic Choice Movie Awards.
Though the awards only matter to the critics, they certainly cheered Ben Affleck up as the actor-turned-director bagged the Best Director award despite his shock snub from the same category by the academy. His film Argo also won the Best Picture prize ahead of the likes of Lincoln, Silver Linings Playbook and Zero Dark Thirty in what was an unusual ceremony which saw no 'dominant' winner.
While Argo had to settle for those two key awards, Lincoln secured wins in Best Actor for Daniel Day-Lewis, Best Adapted Screenplay and Best Original Score for veteran composer John Williams. Silver Linings ended up finishing with the most awards securing four victories for Best Comedy, Best Ensemble, Best Actor in a Comedy (Bradley Cooper) and Best Actress in a Comedy (Jennifer Lawrence). Lawrence herself, also won Best Female Action Star for her lead performance in The Hunger Games though she missed out on the crucial Best Actress award losing out to Jessica Chastain for ZD30.
Philip Seymour Hoffman nabbed a crucial win in Best Supporting Actor for The Master while Anne Hathaway secured the only win for Les Miserables in the Best Supporting Actress category. Nine-year old Quvenzhane Wallis (who became the youngest person to be nominated for Best Actress at the Oscars) won the Best Young Actor/Actress award while Quentin Tarantino was a surprise winner in the Best Original Screenplay category for his violent western Django Unchained.
Skyfall followed on from its impressive showing at BAFTA and the Oscars claiming three wins for Best Action Film, Best Actor in an Action Film (Daniel Craig) and Best Song for Adele's rendition of 'Skyfall'.
Other key winners included Life of Pi (Cinematography, Visual Effects), Anna Karenina (Art Direction, Costume Design), Cloud Atlas (Makeup), Wreck-It-Ralph (Animated Feature), Amour (Foreign Language) and Looper (Sci-fi/Horror Film).
The full list of winners are below:
BEST FILM
Argo
BEST DIRECTOR
Ben Affleck – Argo
BEST ACTOR
Daniel Day-Lewis – Lincoln
BEST ACTRESS
Jessica Chastain – Zero Dark Thirty
BEST SUPPORTING ACTOR
Philip Seymour Hoffman – The Master
BEST SUPPORTING ACTRESS
Anne Hathaway – Les Miserables
BEST ENSEMBLE
Silver Linings Playbook
BEST YOUNG ACTOR/ACTRESS
Quvenzhane Wallis – Beasts of the Southern Wild
BEST ORIGINAL SCREENPLAY
Quentin Tarantino – Django Unchained
BEST ADAPTED SCREENPLAY
Tony Kushner – Lincoln
BEST ART DIRECTION
Anna Karenina
BEST CINEMATOGRAPHY
Life of Pi
BEST COSTUME DESIGN
Anna Karenina
BEST MAKEUP
Cloud Atlas
BEST EDITING
Zero Dark Thirty
BEST VISUAL EFFECTS
Life of Pi
BEST ORIGINAL SCORE
John Williams – Lincoln
BEST ORIGINAL SONG
"Skyfall" – Skyfall
BEST ANIMATED FEATURE
Wreck-It-Ralph
BEST FOREIGN LANGUAGE FEATURE
Amour
BEST DOCUMENTARY
Searching for Sugarman
BEST ACTION FILM
Skyfall
BEST ACTOR IN AN ACTION FILM
Daniel Craig – Skyfall
BEST ACTRESS IN AN ACTION FILM
Jennifer Lawrence – The Hunger Games
BEST COMEDY FILM
Silver Linings Playbook
BEST ACTOR IN A COMEDY FILM
Bradley Cooper – Silver Linings Playbook
BEST ACTRESS IN A COMEDY FILM
Jennifer Lawrence – Silver Linings Playbook
BEST SCI-FI/HORROR FILM
Looper
Source: AwardsDaily