So here we are then. 1500 films have been reduced to 150 and soon it will eventually end up being 25.
As you would probably expect, the list has been split into six with today's post containing the films from #150 to #126. The next one will probably be done within the next couple of weeks but I look forward to hearing or reading your thoughts on those I have selected along the way.
Due to time constraints, I opted not to give a brief reason for including each film though I will be saving that for the Top 25. However I will be posting some overall thoughts on those I have chosen at the bottom.
This week's lineup features memorable characters including a talking rabbit AND bear, a cross-dressing housekeeper, a bumbling detective, a vengeful gladiator and an angry Jack Nicholson….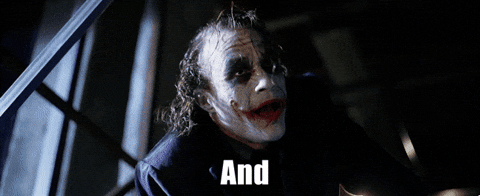 150#. TO SIR, WITH LOVE (1967)
DIRECTOR: James Clavell
CAST: Sidney Poitier, Christian Roberts, Judy Geeson, Suzy Kendall, Lulu, Chris Chittell
SYNOPSIS: West Indian-born engineer Mark Thackeray (Poitier) tries to enforce his own brand of classroom discipline on the pupils of a rough school in East London. He teaches the students to treat each other with respect which slowly wins them over.
MVP: Sidney Poitier as Mark Thackeray
BEST MOMENT?: Though Lulu's iconic song "To Sir With Love" is played a number of times throughout the film, its best usage comes in the emotional climax where Babs sings it to Thackeray prior to his (initial) departure from the school.

149#. WHO FRAMED ROGER RABBIT? (1988)
DIRECTOR: Robert Zemeckis
CAST: Bob Hoskins, Christopher Lloyd, Joanna Cassidy, Charles Fleischer (voice only), Kathleen Turner (voice only)
SYNOPSIS: Set in a world where humans interact with cartoon characters, bitter detective Eddie Valiant (Hoskins) finds himself having to help Roger Rabbit prove his innocence when he is falsely accused of murder.
MVP: Katheen Turner as Jessica Rabbit
BEST MOMENT?: Quite a few contenders here but seeing all those Disney / Warner Bros characters come together at the warehouse in the climax is rather special. All together now; ♪♪ Smile, Darn Ya, Smile….♪♪
PLOT: Following a bitter divorce from his wife Miranda (Field), struggling actor Daniel Hillard (Williams) disguises himself as an old female housekeeper to spend time with his children.
MVP: Robin Williams as Daniel Hillard
BEST MOMENT?: The "Luck Be a Lady" montage is masterful to watch as we see Daniel's transformation come together brilliantly whilst backed by Frank Sinatra's hit ballad.
147#. ZERO DARK THIRTY (2012)

DIRECTOR: Kathryn Bigelow
CAST: Jessica Chastain, Jason Clarke, Mark Strong, Joel Edgerton, Chris Pratt, Kyle Chandler, Edgar Ramirez, Jennifer Ehle, James Gandolfini
SYNOPSIS: CIA operative Maya (Chastain) oversees the decade-long hunt for al-Qaeda terrorist leader Osama bin Laden after the September 2001 attacks.
MVP: Jessica Chastain as Maya
BEST MOMENT?: The Navy SEALs attack on Bin Laden's hideout is ridiculously tense as we follow the unit through a nail-biting several minutes that eventually ends with them killing their target.
146#. SPECTRE (2015)
DIRECTOR: Sam Mendes
CAST: Daniel Craig, Christoph Waltz, Lea Seydox, Ralph Fiennes, Naomie Harris, Ben Whishaw, Monica Bellucci
SYNOPSIS: A cryptic message from 007's past sends him pitted against a mysterious terrorist organization called Spectre, and learns of its involvement in previous events of his most dangerous missions.
MVP: Christoph Waltz as Blofeld
BEST MOMENT?: The opening tracking shot captures the true spectacle of Mexico's Day of the Dead parade as Bond tries to track down a potential target.
 145#. AVATAR (2009)

DIRECTOR: James Cameron
STARRING: Sam Worthington, Zoe Saldana, Stephan Lang, Sigourney Weaver
SYNOPSIS: In the 22nd century, a paraplegic Marine (Worthington) is dispatched to the moon Pandora on a unique mission, but becomes torn between following orders and protecting an alien civilization.
MVP: Zoe Saldana as Neytiri
BEST MOMENT?: The destruction of the Hometree is surprisingly effective as the Sky People show no mercy towards the terrified Na'vi.
 144#. LOCK, STOCK & TWO SMOKING BARRELS (1998)

DIRECTOR: Guy Ritchie
CAST: Jason Statham, Jason Flemyng, Nick Moran, Dexter Fletcher, Vinne Jones, Sting
SYNOPSIS: A botched card game in London triggers four friends, thugs, weed-growers, hard gangsters, loan sharks and debt collectors to collide with each other in a series of unexpected events, all for the sake of weed, cash and two antique shotguns.
MVP: Vinnie Jones as Big Chris
BEST MOMENT?: After seeing Dog threaten his son, Big Chris decides to punish him by bludgeoning him to death with his car door.
143#. MONA LISA (1986)
DIRECTOR: Neil Jordan
CAST: Bob Hoskins, Cathy Tyson, Michael Caine, Robbie Coltrane
SYNOPSIS: After serving time in prison, small-time crook George (Hoskins) is tasked with working as a minder/driver for high class call-girl Simone (Tyson). He then decides to help her track down her missing friend which leads to more trouble for him.
MVP: Bob Hoskins as George
BEST MOMENT?: The tense climax sees George and Simone chased through the promenades of Brighton by Mortwell's henchmen which leads to a confrontation with the big bad himself.

142#. THE NAKED GUN: FROM THE FILES OF POLICE SQUAD! (1988)
DIRECTOR: David Zucker
STARRING: Leslie Nielsen, Prescilla Presley, Richardo Montalban, George Kennedy, O.J. Simpson
SYNOPSIS: When his partner is attacked, incompetent officer Frank Drebin (Nielsen) investigates only to then stumble upon an attempt to assassinate Queen Elizabeth.
MVP: Leslie Nielsen
BEST MOMENT?: So many goofy choices to pick but I always get a lot of laughs out of Frank's failure to be subtle in front of Nordberg's wife.
Ed: What I'm trying to say is that, Wilma, as soon as Nordberg is better, he's welcome back at Police Squad.

Frank: [being blunt] Unless he's a drooling vegetable. But I think that's only common sense.
141#. TED (2012)
DIRECTOR: Seth MacFarlane
CAST: Mark Wahlberg, Mila Kunis, Seth MacFarlane (voice only), Joel McHale, Giovanni Ribsi
SYNOPSIS: John Bennett (Wahlberg), a man whose childhood wish of bringing his teddy bear to life came true, now must decide between keeping the relationship with the bear or his girlfriend (Kunis).
MVP: Seth MacFarlane as Ted
BEST MOMENT?: The "Fuck you Thunder" scene would be an obvious choice to some but I get more laughs out of John's meeting with Flash Gordon star Sam J. Jones (complete with Queen's Flash!).

140#. PHILADELPHIA (1993)
DIRECTOR: Jonathan Demme
CAST: Tom Hanks, Denzel Washington, Jason Robards, Mary Steenburgen, Antonio Banderas
SYNOPSIS: After being diagnosed with AIDS, Andrew Beckett (Hanks) loses his job and decides to sue his former employers with the help of bigoted lawyer Joe Miller (Washington).
MVP: Tom Hanks as Andrew Beckett
BEST MOMENT?: The final ten minutes alone are devastating from Miller's emotional farewell to Beckett in hospital to the powerful home-movie that is backed by Neil Young's "Philadelphia."
139#. WARRIOR (2011)

DIRECTOR: Gavin O'Connor
STARRING: Joel Edgerton, Tom Hardy, Jennifer Morrison, Nick Nolte
SYNOPSIS: The youngest son (Hardy) of an alcoholic former boxer (Nolte) returns home, where he's trained by his father for competition in a mixed martial arts tournament – a path that puts the fighter on a collision course with his estranged, older brother (Edgerton).
MVP: Nick Nolte as Paddy Conlon
BEST MOMENT?: The best-acted scene of the film sees a devastated Paddy turn to booze which leads to an emotional breakdown in front of Tommy.

138#. SILVER LININGS PLAYBOOK (2012)

DIRECTOR: David O. Russell
STARRING: Bradley Cooper, Jennifer Lawrence, Robert De Niro, Jacki Weaver, Chris Tucker
SYNOPSIS: After a stint in a mental institution, former teacher Pat Solitano (Cooper) moves back in with his parents and tries to reconcile with his ex-wife. Things get more challenging when he meets Tiffany (Lawrence), a mysterious girl with problems of her own.
MVP: Jennifer Lawrence as Tiffany
BEST MOMENT?: Pat and Tiffany decide to prove a point by performing an eccentric and offbeat dance that mirrors the mental illnesses of both characters.
137#. WHERE EAGLES DARE (1967)

DIRECTOR: Brian G. Hutton
STARRING: Richard Burton, Clint Eastwood, Mary Ure, Patrick Wymark
SYNOPSIS: In the midst of WWII, A group of skilled Allied soldiers are sent on a daring mission to rescue an American general who is being detained in a castle occupied by Nazis.
MVP: Richard Burton as Major Smith
BEST MOMENT?: The fights on top of the cable cars are fun yet tense to watch as our heroes try to get the better of enemy soldiers.
136#. AUSTRALIA (2008)

DIRECTOR: Baz Luhrmann
CAST: Nicole Kidman, Hugh Jackman, Essie Davis, David Wenham, Bryan Brown, Brandon Walters
SYNOPSIS: Prior to WWII, an English aristocrat (Kidman) inherits a ranch in Australia and reluctantly pacts with a rugged stock-man (Jackman) in order to protect her new property from a takeover plot.
BEST MOMENT?: A scintillating sequence sees Aboriginal youngster Nullah desperately try to prevent the bulls from racing off a cliff.
135#. RESERVOIR DOGS (1992)
DIRECTOR: Quentin Tarantino
STARRING: Harvey Keitel, Tim Roth, Michael Madsen, Chris Penn, Steve Buscemi, Lawrence Tierney
SYNOPSIS: Following a botched bank robbery, a group of thieves hide out in a warehouse as they try to figure out what went wrong. Paranoia sinks in as the truth slowly begins to unravel.
MVP: Harvey Keitel as Mr. White
BEST MOMENT?: The most popular scene of the film as Mr. Blonde teases and torments a wounded policeman whilst singing along to the hit Stealer's Wheel's song "Stuck in the Middle with You". No hard of 'earing for him then?
134#. CASINO (1995)

DIRECTOR: Martin Scorsese
STARRING: Robert De Niro, Sharon Stone, Joe Pesci, James Woods, Don Rickles
SYNOPSIS: In early-1970s Las Vegas, low-level mobster Sam "Ace" Rothstein (De Niro) becomes head of the Tangiers Casino. At first, he's a great success in the job, but over the years, problems with his loose-cannon enforcer Nicky (Pesci), his hustler wife Ginger (Stone) and a handful of corrupt politicians put Sam in ever-increasing danger.
MVP: Sharon Stone as Ginger McKenna
BEST MOMENT?: Nicky gets his comeuppance as Frank Marino and his men brutally kill him and his brother in one of the more uncomfortable death scenes.

133#. GLADIATOR (2000)

DIRECTOR: Ridley Scott
STARRING: Russell Crowe, Joaquin Phoenix, Connie Nielsen, Oliver Reed, Richard Harris
SYNOPSIS: A former Roman General-turned-gladiator (Crowe) sets out to exact vengeance against the corrupt emperor (Phoenix) who murdered his family and sent him into slavery.
MVP: Joaquin Phoenix as Commodus
BEST MOMENT?: The aftermath of the first fight at the Coliseum as Maximus reveals his true identity to the emperor and issues him a warning.

132#. CHANGELING (2008)
DIRECTOR: Clint Eastwood
STARRING: Angelina Jolie, Jeffrey Donovan, John Malkovich
SYNOPSIS: In 1920s Los Angeles, single mother Christine Collins (Jolie) struggles to gain support from the corrupt LAPD after her son goes missing.
MVP: Angelina Jolie as Christine Collins
BEST MOMENT?: A key sequence as youngster Sandford Clark makes an emotional confession to an officer about his insane uncle's brutal murder of several children. The flashbacks are well edited but also leave you feeling uncomfortable.

131#. COMING TO AMERICA (1988)
DIRECTOR: John Landis
STARRING: Eddie Murphy, Arsenio Hall, James Earl Jones, John Amos, Shari Headley, Madge Sinclair
SYNOPSIS: An extremely pampered African Prince (Murphy) travels to Queens, New York, and goes undercover to find a wife that he can respect for her intelligence and will.
MVP: Eddie Murphy as Prince Akeem
BEST MOMENT?: The barbershop scenes always provide some laughs as we see Murphy and Hall (complete with heavy makeup) have fun as the cantankerous old men arguing about who the better boxer is out of Clay or Ray.

130#. MUNICH (2005)
DIRECTOR: Steven Spielberg
STARRING: Eric Bana, Daniel Craig, Ciaran Hinds, Mathieu Kassovitz, Hanns Zischler, Ayelet Zurer, Geoffrey Rush
SYNOPSIS: Following the traumatic events of Black September, a team of Jewish assassins are tasked with tracking down and killing the Palestinian terrorists responsible for that fateful day.
MVP: Eric Bana as Avner
BEST MOMENT?: A nail-biting sequence has the team desperately trying to stop a bomb from going off when they hear a young girl answer the phone in the apartment where it's been planted.
DIRECTOR: Tom McCarthy
STARRING: Michael Keaton, Mark Ruffalo, Rachel McAdams, Liev Schreiber, John Slattery, Brian d'Arcy James, Stanley Tucci
SYNOPSIS: When the Boston Globe's tenacious "Spotlight" team of reporters delves into allegations of abuse in the Catholic Church, their year-long investigation uncovers a decades-long cover-up at the highest levels of Boston's religious, legal, and government establishment.
MVP: Mark Ruffalo as Mike Rezendes
BEST MOMENT?: The "It's Time" scene is rivetting to watch as a frustrated Rezendes challenges his boss to do the right thing and publish the story.
 128#. A FEW GOOD MEN (1992)
DIRECTOR: Rob Reiner
STARRING: Tom Cruise, Jack Nicholson, Demi Moore, Kevin Bacon, Kevin Pollock, Kiefer Sutherland
SYNOPSIS: When cocky military lawyer Lt. Daniel Kaffee (Cruise)and his co-counsel are assigned to a murder case, they uncover a hazing ritual that could implicate high-ranking officials such as shady Col. Nathan Jessep (Nicholson).
MVP: Jack Nicholson as Col. Nathan Jessep
BEST MOMENT?: A masterclass of acting from the great Jack Nicholson as Jessep finally snaps during a heated interrogation from Kaffee. Who can forget that line too….
 127#. THE GOOD, THE BAD AND THE UGLY (1966)
DIRECTOR: Sergio Leone
STARRING: Clint Eastwood, Lee Van Cleef, Eli Wallach
SYNOPSIS: In the midst of the American Civil War, three men – a quiet loner (Eastwood), a ruthless hitman (Van Cleef) and a Mexican bandit (Wallach) race to find a fortune of gold buried in a remote cemetery.
MVP: Eli Wallach as Tuco
BEST MOMENT?: Tuco's frantic search for the gold is backed by one of the greatest pieces of music in film history as Ennio 'Maestro' Morricone performs his glorious theme "The Ecstasy of Gold". Still haunting to listen to today!

 126#. A TIME TO KILL (1996)
DIRECTOR: Joel Schumacher
STARRING: Matthew McConnaughey, Sandra Bullock, Samuel L. Jackson, Kevin Spacey, Donald Sutherland
SYNOPSIS: In Mississippi, a fearless young lawyer (McConaughey) and his assistant (Bullock) take on the shocking case of a black man (Jackson) accused of murdering two white men who raped his ten-year-old daughter.
MVP: Matthew McConaughey as Jake Brigance
BEST MOMENT?: Monologues don't come any better than the one McConaughey delivers in the film's emotional climax as Jake gives a closing speech so persuasive and powerful that it leads to the racially-motivated jury to give the right verdict.
THE CINEMATIQUE'S THOUGHTS:
'To Sir, With Love' may seem random to start with but it has plenty of charm about it and there's just something about that Lulu song.
I know some of you will disagree with this but 'Spectre' is probably my favourite Bond film. Saying that, I have only seen about six so far!
It was a tough call to have the likes of Gladiator and The Good, The Bad and the Ugly so low but it's a very competitive list!
I'm already prepping for a backlash regarding the placement of animations and comedies over more acclaimed films. To be honest, I've always preferred mixing them together rather than place them in separate categories.
So there you have it; one post down, five more to go!