While the film stars were celebrating their successes last night, there was also focus on the television shows in what was a busy night at the ceremony.
The love was spread in the three major categories as security-drama series Homeland (Television Series – Drama), women-based sitcom Girls (Television Series – Comedy) and political biopic Game Change (Mini-Series or Motion Picture Made for Television) all triumphed against some steady competition.
Firstly, Homeland secured three wins for Television Series (Drama) ahead of other fantastic shows including Boardwalk Empire, Breaking Bad and The Newsroom (all went home empty-handed!). Lead star Claire Danes claimed her fourth Globe win in Best Actress (which also included Michelle Dockery for Downton Abbey and Glenn Close for Damages) for her role as CIA analyst Carrie Mathison while her British co-star Damien Lewis beat off tough competition from the likes of Steve Buscemi (Boardwalk), Bryan Cranston (Breaking Bad) and Jeff Daniels (Newsroom) to win Best Actor.
Lewis wasn't the only Brit to triumph in the TV awards as veteran Maggie Smith (a no-show at the event) won Best Supporting Actress (in a Series, Mini-Series or Motion Picture Made for Television) for her role in the period-drama Downton Abbey.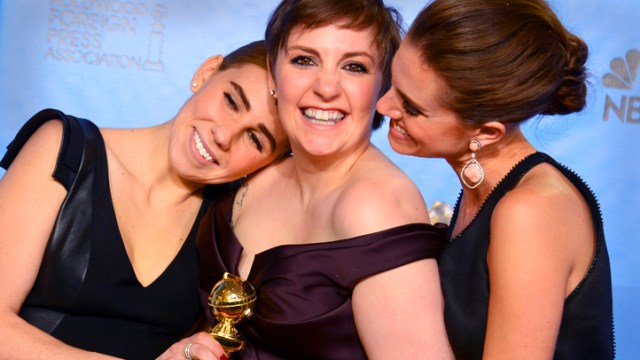 Girls surprisingly won Best Comedy/Musical Series against the likes of Modern Family and The Big Bang Theory while lead actress Lena Dunham won her category ahead of Zooey Deschanel (New Girl), Julia-Louis Dreyfus (Veep) and the two Golden Globes hosts Tina Fey (30 Rock) and Amy Poehler (Parks and Recreation).
The Best Actor in a Comedy/Musical Series was awarded to Don Cheadle for his role in House of Lies as he held off competition from Matt LeBlanc (Episodes) and Jim Parsons (Big Bang) amongst others.
Finally, Game Change, which chronicles the presidential campaign by Sarah Palin, secured the Best Mini-Series Or Motion Picture Made for Television in a tough category that also featured The Girl, The Hour and Hatfields & McCoy.
Julianne Moore won Best Actress for her role as Palin against a group of fellow Hollywood stars including Jessica Lange (American Horror Story), Nicole Kidman (Hemingway and Gelhorn) and Sienna Miller (The Girl). Ed Harris won the Best Supporting Actor prize for his performance as presidential candidate John McCain.
Kevin Costner secured Best Actor against Benedict Cumberbatch (Sherlock), Woody Harrelson (Game Change) and Toby Jones (The Girl) for his lead role in the western-series Hatfields & McCoys.
The full-list of winners are below:
BEST TELEVISION SERIES (DRAMA)
Homeland
BEST ACTOR IN A TELEVISION SERIES (DRAMA)
Damien Lewis – Homeland
BEST ACTRESS IN A TELEVISION SERIES (DRAMA)
Claire Danes – Homeland
BEST TELEVISION SERIES (COMEDY/MUSICAL)
Girls
BEST ACTOR IN A TELEVISION SERIES (COMEDY/MUSICAL)
Don Cheadle – House of Lies
BEST ACTRESS IN A TELEVISION SERIES (COMEDY/MUSICAL)
Lena Dunham – Girls
BEST MINI-SERIES OR MOTION PICTURE MADE FOR TELEVISION
Game Change
BEST ACTOR IN A MINI-SERIES OR MOTION PICTURE MADE FOR TELEVISION
Kevin Costner – Hatfields & McCoys
BEST ACTRESS IN A MINI-SERIES OR MOTION PICTURE MADE FOR TELEVISION
Julianne Moore – Game Change
BEST SUPPORTING ACTOR IN A SERIES, MINI-SERIES OR MOTION PICTURE MADE FOR TELEVISION
Ed Harris – Game Change
BEST SUPPORTING ACTRESS IN A SERIES, MINI-SERIES OR MOTION PICTURE MADE FOR TELEVISION
Maggie Smith – Downton Abbey