Onto the television contenders, the Globes produced more shocks as various shows suffered from a lack of recognition or were completely shut out.
In the Drama Television Series category, The Affair, Downton Abbey, The Good Wife and Netflix's House of Cards all landed three mentions each. HBO's Game of Thrones rounded off the list of nominees but it failed to land anywhere else with Peter Dinklage surprisingly snubbed for his iconic role as Tyrion Lannister.
Aside from a Best Actress nod for Claire Danes, Homeland missed out on other recognition while Hannibal, Mad Men and the final series of Boardwalk Empire also failed to make the cut.
With Bryan Cranston and Breaking Bad now gone, Kevin Spacey will be looking to triumph in the Best Actor category for House of Cards but faces stern competition from James Spader (The Blacklist), Liev Schrieber (Ray Donovan) and British duo Clive Owen (The Knick) and Dominic West (The Affair).
After being overlooked last year, Claire Danes is up against previous nominees like Julianna Marguiles (The Good Wife) and Robin Wright (House of Cards) plus a new entry in Viola Davis (How To Get Away With Murder).
In the Best Comedy Series group, Modern Family and The Big Bang Theory were both completely shut out with Orange is the New Black looking to clinch the main award ahead of Girls, Jane the Virgin, Silicon Valley and Transparent. This writer was not a happy chappy!
British comedian actor Ricky Gervais is nominated for his role in Derek and is competing with the likes of Louis C.K (Louis) and Don Cheadle (House of Lies) for the Best Actor (Comedy/Musical) gong.
Julia Louis-Dreyfus will be hoping to land another Best Actress (Comedy/Musical) award for Veep as she goes head-to-head with Lena Dunham (Girls) and Taylor Schilling (Orange is the New Black) amongst others.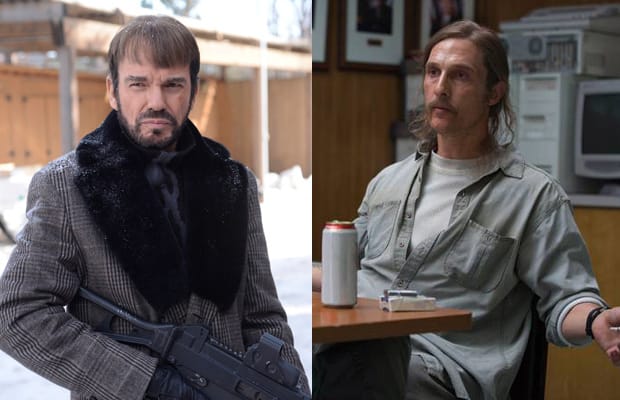 The Best TV Movie / Mini-Series features a weighty group of contenders which include the small-screen adaptation of Fargo, leading the way with five nominations. Lead stars Martin Freeman and Billy Bob Thornton are competing against one another in the Best Actor in a TV Movie category while co-stars Alison Tolman and Colin (son of Tom) Hanks are also nodded.
It faces a mighty challenge overcoming HBO's acclaimed crime series True Detective as main stars Matthew McConaughey and Woody Harrelson also received acting mentions along with Michelle Monaghan.
Gay activist drama The Normal Heart is also on the Best TV Movie shortlist with actors Mark Ruffalo and Matt Bomer both nominated though Julia Roberts was another big star to get snubbed.
Family drama Olive Ketteridge and BBC's crime thriller The Missing also made the cut with the former gaining acting nominations for Frances McDormand and Bill Murray.
Bomer, Hanks and Murray are both competing for Best Supporting Actor along with Alan Cumming (The Good Wife) and last year's winner Jon Voight (Ray Donovan).
Finally, the Best Supporting Actress shortlist includes previous winner Allison Janney (Mom) plus Kathy Bates (American Horror Story: Freak Show) and British actress Joanne Froggatt (Downton Abbey).
The 72nd Annual Golden Globe Awards will be hosted for the third and final time by Tina Fey and Amy Poehler on January 11th 2015.
The full list of nominations are below (with predictions in blue):
BEST TELEVISION SERIES (DRAMA)
The Affair
Downton Abbey
Game of Thrones
The Good Wife
House of Cards
BEST PERFORMANCE BY AN ACTOR IN A TELEVISION SERIES (DRAMA)
Clive Owen – The Knick
Liev Schreiber – Ray Donovan
Kevin Spacey – House of Cards
James Spader – The Blacklist
Dominic West – The Affair
BEST PERFORMANCE BY AN ACTRESS IN A TELEVISION SERIES (DRAMA)
Claire Danes – Homeland
Viola Davis – How To Get Away With Murder
Julianna Margulies – The Good Wife
Ruth Wilson – The Affair
Robin Wright – House of Cards
BEST TELEVISION SERIES (COMEDY/MUSICAL)
Girls
Jane the Virgin
Orange is the New Black
Silicon Valley
Transparent
BEST PERFORMANCE BY AN ACTOR IN A TELEVISION SERIES (COMEDY/MUSICAL)
Louis CK – Louie
Don Cheadle – House of Lies
Ricky Gervais – Derek
William H. Macy – Shameless
Jeffrey Tambor – Transparent

BEST PERFORMANCE BY AN ACTRESS IN A TELEVISION SERIES (COMEDY/MUSICAL)
Lena Dunham – Girls
Edie Falco – Nurse Jackie
Julia Louis-Dreyfus – Veep
Gina Rodriguez – Jane the Virgin
Taylor Schilling – Orange is the New Black
BEST MINI-SERIES OR MOTION PICTURE MADE FOR TELEVISION
Fargo
The Missing
The Normal Heart
Olive Kitteridge
True Detective
BEST PERFORMANCE BY AN ACTOR IN A MINI-SERIES OR MOTION PICTURE MADE FOR TELEVISION
Martin Freeman – Fargo
Woody Harrelson – True Detective
Matthew McConaughey – True Detective
Mark Ruffalo – The Normal Heart
Billy Bob Thornton – Fargo
BEST PERFORMANCE BY AN ACTRESS IN A MINI-SERIES OR MOTION PICTURE MADE FOR TELEVISION
Maggie Gyllenhaal – The Honourable Woman
Jessica Lange – American Horror Story: Freak Show
Frances McDormand – Olive Kitteridge
Francis O'Connor – The Missing
Alison Tolman – Fargo

BEST PERFORMANCE BY AN ACTOR IN A SUPPORTING ROLE IN A SERIES, MINI-SERIES OR MOTION PICTURE MADE FOR TELEVISION
Matt Bomer – The Normal Heart
Alan Cumming – The Good Wife
Colin Hanks – Fargo
Bill Murray – Olive Kitteridge
Jon Voight – Ray Donovan
BEST PERFORMANCE BY AN ACTRESS IN A SUPPORTING ROLE IN A SERIES, MINI-SERIES OR MOTION PICTURE MADE FOR TELEVISION
Uzo Aduba – Orange is the New Black
Kathy Bates – American Horror Story: Freak Show
Joanne Froggatt – Downton Abbey
Allison Janney – Mom
Michelle Monaghan – True Detective