It has to be said that 2015 has been a strange year for me in terms of not indulging myself on films as much as I used to. Instead, television has taken over which has led to me getting through a ridiculous amount of programmes over the past nine months.
To commemorate the new-look appearance of Craig's Cinematique, my first article will focus on my Top 100 Favourite TV characters of all time. Part 1 centres on those ranked between 100 and 51 with the Top 50 being revealed in a later piece.
As many of you can imagine, this list was very difficult to compile and I had to make several notable snubs along the way. First of all, there are no non-human characters involved so the likes of Scooby Doo, Bugs Bunny, Tom and Jerry and most regrettably of all, my childhood favourite Thomas the Tank Engine are no-gos on the list.
Secondly, characters from prestige shows like Bottom, EastEnders, Friends, Little Britain, Sons of Anarchy and Steptoe and Son are not included plus individuals from those on the list are also absent.
I hope a majority of you will agree with my choices in this first edition of my Top 100 Greatest TV Characters…..
100) Oberyn Martell – Game of Thrones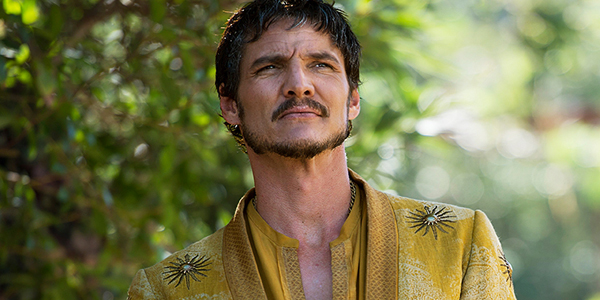 Actor: Pedro Pascal
Reason: Though he only features in several episodes of Game of Thrones' fourth season, Oberyn makes his presence felt in King's Landing as his bids to avenge the brutal death of his sister and her children. Charismatic yet skillful with the spear, his honourable decision to fight for Tyrion Lannister leads to a 'head-splitting' end for the Prince of Dorne.
Best Moment: The intense 'trial by combat' fight with the Mountain enables the unfortunate Oberyn to shout the infamous words "RAPED HER! YOU MURDERED HER! YOU KILLED HER CHILDREN!"
99) Johnny Bravo – Johnny Bravo

Actor: Jeff Bennett
Reason: Channeling the young Elvis Presley, Bravo has handsome swagger and quality blonde hair but unsurprisingly struggles to land many dates which isn't helped by his cocky attitude. His long quest for love ended up being the running theme of the short-lived Cartoon Network series.
Best Moment: Trying to win over a nurse with his own seductive version of "Row, row your boat".
98) Barry Taylor – Auf Weidersehen Pet

Actor: Timothy Spall
Reason: Our favourite TV Brummie often finds himself being the voice of reason amongst the dysfunctional Auf Weidersehen Pet gang even when he ends up being ridiculed for it. However he remains a key member throughout the show's run which is great testament to the terrific performance from Spall.
Best Moment: His pathetic kick at one of Ally Fraser's goons during a memorable fight scene outside Thornley Manor.
97) Nelson Van Alden – Boardwalk Empire

Actor: Michael Shannon
Reason: Such a towering presence on screen, Shannon is used to playing crazy characters (General Zod amongst others) but his role as law-abiding FBI agent-turned-insane mob goon Nelson Van Alden won him a place on the list. Just a pity he never received more credit for his work on the show!
Best Moment: Nelson is pushed too far by an irritating work colleague which leads to a nasty incident involving an iron….
96) George Costanza – Seinfeld
Actor: Jason Alexander
Reason: In a series full of infuriating characters, George suffers most as he gets caught up in awkward situations involving women and random strangers. Even when he gets engaged and lands work with the Yankees, he still doesn't enjoy his life but Alexander's performance allows us to feel for him….just a little bit!
Best Moment: The epic Answering Machine message!
95) Eddie – Early Doors

Actor: Mark Benton
Reason: Dopey but lovable, our 'Eddie' is your typical village idiot but remains a key asset of the underrated Early Doors even when he constantly talks about temporary traffic lights. Benton's chemistry with co-star Lorraine Cheshire (as Eddie's equally-thick wife Joan) is always a joy to watch throughout the series.
Best Moment: Asking Ken about the Pickles question that is about to be read out in the excellent pub quiz episode.
94) Alice Tinker – The Vicar of Dibley

Actor: Emma Chambers
Reason: Consistently thick throughout the series, the lovely Alice is the closest mate that the vicar has got even if their conversations stretch to the bizarre! The character also gets some development later in the show when she marries her childhood sweetheart Hugo in a fantastic wedding episode.
Best Moment: Her intriguing thoughts on the product "I Can't Believe It's Not Butter"
93) Ken Barlow – Coronation Street

Actor: William Roache
Reason: The longest serving character on the list, Ken is still going strong after 55 years on one of Britain's greatest programmes. Despite the constant affairs and unfortunate tragedies (including the devastating loss of his long-term partner Dierdre), our Ken will always be the heart and soul of the Manchester-based soap.
Best Moment: His final scenes with love rival Mike Baldwin who dies in his arms after making one more taunt about Deirdre.
92) Al Swearengen  – Deadwood
Actor: Ian McShane
Reason: Originally perceived as a vile character when the show first started, foul-mouthed Al ultimately becomes more complex as he battles to control the town of Deadwood. It's just a shame that McShane's award-winning performance didn't gain more screen-time following the show's unfortunate cancellation in 2005.
Best Moment: His conversations with his Asian counterpart Mr Wu which provide plenty of uses of the word "cocksucker".
91) Will McAvoy – The Newsroom

Actor: Jeff Daniels
Reason: Proving there's more to him than Dumb and Dumber, Daniels commands the screen as our favourite TV news anchor throughout Aaron Sorkin's media-based series. Though his actions often raise a lot of eyebrows from his committed team, Will always battles to ensure that the best news is presented.
Best Moment: His anti-America speech in the show's first episode is a landmark moment for television and for Daniels who landed the Emmy for Best Actor in 2013.
90) Brian Potter – Phoenix Nights

Actor: Peter Kay
Reason: Though cynical towards his staff, Brian Potter always knows best about his beloved Phoenix club which is what helped Kay make the big-time as a popular comedian. Once again, this was another cult series which was cut short though the recent Comic Relief stage show has given hope of a potential return.
Best Moment: His ill-fated appearance on Crime-Time / bloody waste of time!
89) Paulie Gaultieri – The Sopranos

Actor: Tony Sciario
Reason: There were a lot of supporting characters to choose from the hit HBO series but loyal goon Paulie just about sneaks onto the list. Though a dangerous man to deal with, his humourous exchanges with the likes of Silvio and Christopher never fails to entertain nor does his love for his mama.
Best Moment: His disgusted reaction upon hearing about Vito's homosexual act.
88) Ken Dixon – Early Doors

Actor: John Henshaw
Reason: Owner of the Grapes pub, Ken is your typical landlord as he tries to run his establishment even when having to deal with some strange regulars. However, Henshaw's witty turn enables the character to come out strong especially when he shows great care for others including his daughter Melanie.
Best Moment: Crime can crack itself for Ken as he punches Melanie's real dad in the programme's satisfying finale.
87) Linda La Hughes – Gimme Gimme Gimme

Actor: Kathy Burke
Reason: An icon amongst lazy, colourful women, Linda stands out amongst all female sitcom characters with her red hair and vulgar personality. Unsurprisingly, it doesn't get her anywhere with men which results in plenty of crude exchanges with her long-suffering flatmate Tom.
Best Moment: Her happy mood and a swinging bag results in a bad moment for an unfortunate baby.
86) Carlton Banks – The Fresh Prince of Bel-Air

Actor: Alfonso Ribeiro
Reason: Throughout Fresh Prince's run, Carlton proves to be a complete dork who constantly humiliates his cousin Will but remains a fans favourite. Most of that comes down to his love for Tom Jones and the iconic Carlton dance which Ribeiro often performs during interviews like The Graham Norton Show.
Best Moment: Carlton's love for Jones comes true when the legendary Welsh singer appears in his dream which leads to the pair singing a rendition of "It's Not Unusual".
85) Howard Wolotwitz – The Big Bang Theory

Actor: Simon Helberg
Reason: As the Jewish member of the Big Bang Theory group, Howard initially starts off as a cocky womaniser in the show's early beginnings until he marries his beloved Bernadette. However, he also gets into constant arguments with his unseen mother as well as being looked down upon by Sheldon for the fact that he is only an engineer.
Best Moment: Upon getting through to Raj's admirer, Howard produces an incredible Indian accent to help his friend get a date. Superb work from Helberg.
84) Jerry Seinfeld – Seinfeld

Actor: Jerry Seinfeld
Reason: While Jerry isn't particularly rootable throughout his own series, his goofy charisma and witty stand-ups demonstrate why the character has become the 'master of his domain' amongst sitcom fans. If only he didn't go round messing up every encounter he has with people!
Best Moment: His JFK-style reenactment of the spitting incident involving Kramer and Newman.
83) Vern Schillinger – Oz

Actor: J.K Simmons
Reason: One of the few villains to make the list, neo-Nazi Schillinger is a vile man who makes Simmons' recent Oscar-winning role as Terence Fletcher seem caring. His consistent bullying of fellow prisoners like Tobias Beecher can be outrageous at times yet you can't help but laugh at some of the crap that comes out of his disgusting mouth.
Best Moment: Speaking of disgusting mouths, Vern becomes the subject of that in a rather sick bit of revenge from Tobias in the Season 1 finale.
82) Omar Little – The Wire

Actor: Michael K. Williams
Reason: A cult hero amongst the ghetto neighbourhoods in Baltimore, Omar is the Robin Hood of his turf as he proceeds to tackle the gangs as part of his own individual quest for justice. Williams is terrific in the role and makes us root for Omar throughout although things don't quite work out for him towards the show's end.
Best Moment: "All in the game yo, all in the game."
81) Jim Trott – The Vicar of Dibley

Actor: Trevor Peacock
Reason: No, no, no, no, no way was Jim going to be snubbed from this list! The no-man of Dibley often steals various moments of Richard Curtis' hit sitcom particularly in the cracking committee meeting scenes that take place. However, he also lends useful help to Geraldine and co. even when it takes him an age to speak!
Best Moment: Tough call but his random spouts of "Wanna Make Love to You Baby" from the Spice Girls' "2 Become 1" always brings a lot of laughs from me.
80) Boycie – Only Fools and Horses

Actor: John Challis
Reason: Famed for his snobby attitude and his legendary laugh, Boycie enjoys nothing better than trying to act high and mighty over his childhood mate Del Boy. However, he often finds himself being the subject of ridicule especially when his wife Marlene is involved.
Best Moment: His Louis Armstrong rant upon discovering that the baby he and Marlene are about to adopt is black.
79) Vic Mackey – The Shield

Actor: Michael Chiklis
Reason: From the moment he kills an undercover cop in the pilot's ending, Mackey's corruptness shows as he spends the majority of this series covering up crimes, betraying his colleagues and being unfaithful to his family. Nevertheless, his tough-guy persona and sometimes moral decisions ensure that he isn't quite a monster unlike the actual criminals he and his strike team pursue.
Best Moment: In the final episode, Vic finally confesses his crimes throughout the series to his accusers in a mesmerising scene, brilliantly acted by Chiklis.
78) Baldrick – Blackadder
Actor: Tony Robinson
Reason: A complete imbecile throughout the whole of Blackadder, Baldrick always stays loyal to his harsh employer even when he is on the receiving end of various insults. He does have his useful moments though especially when making suggestions about having a "cunning plan".
Best Moment: His contributions to the English dictionary which include defining a dog as not being a cat.
77) Arnold Rimmer – Red Dwarf

Actor: Chris Barrie
Reason: A self-centered individual, Rimmer ends up becoming a hologram in the show's opening episode but still manages to act superior around his small band of crew-mates as the series progresses. Unfortunately, they don't quite take him seriously even when they get into difficult positions.
Best Moment: Being the centre of attention as the rest of the crew find themselves riding a rollercoaster through the Rimmer Experience.
76) Hank Schrader – Breaking Bad

Actor: Dean Norris
Reason: Cocky but committed to the law, Hank spends the majority of this series investigating the mysterious drug baron Heisenberg unaware that his cancer-stricken brother-in-law Walter is the actual culprit. He also shares a strong bond with his purple-loving wife Marie thus confirming them as one of the better TV couples.
Best Moment: The penny finally drops for Hank when he discovers the Walt Whitman book that Gale lent to Walter in the bathroom.
75) Kareem Said – Oz

Actor: Eamonn Walker
Reason: Despite sharing a prison with murderers and rapists, Said tries to keep the peace in Oz with his words of wisdom even when he finds himself judging his own faith. Along with Simmons, Walker is one of the true standouts of the show and again, it's a pity he didn't receive more acclaim for his complex performance.
Best Moment: Kareem finally decides to tackle the scheming Adebisi in his cell which leads to a knife fight that leaves you on edge.
74) Jim McNulty – The Wire

Actor: Dominic West
Reason: Another committed lawman, McNulty leads from the front early in the show as he battles to stop Avon Barksdale and his crew in the ongoing war on drugs. West's near-perfect American accent enhances the character's reputation with a mixture of cocky humour and law-abiding dedication.
Best Moment: McNulty has some fun at his wake following the end of his law career.
73) Nucky Thompson – Boardwalk Empire

Actor: Steve Buscemi
Reason: As the leading character of HBO's brilliant crime series, Nucky tries to maintain power in Atlantic City during the Prohibition era of the 1920s but is challenged by various rivals. However, he does make some drastic decisions that ultimately lead to his downfall in the final ever episode. Engaging work from the underrated Buscemi.
Best Moment: His critical showdown with Jimmy in the series 2 finale "For the Lost".
72) Will Smith – The Fresh Prince of Bel-Air

Actor: Will Smith
Reason: In what was his breakthrough role, Smith won us over with his erratic behaviour (and a funky theme song) as he tries to adapt to life in California following his move from Philly. Though always a constant pain for his long-suffering relatives, Will eventually becomes a key member of the family.
Best Moment: One of the few dramatic moments on the show sees Will break down when his estranged father walks out on him again.
71) Saul Berenson – Homeland

Actor: Mandy Patinkin
Reason: Holding a crucial position with the CIA, Saul acts as both a mentor and a father figure to the dysfunctional Carrie. However, he too has to deal with the pressures of his job as he looks to protect his country from terrorists at all costs. Patinkin is sublime in the part proving there's more to him than his classic role as Inigo Montoya.
Best Moment: His desperate attempt to avoid being traded for a group of Muslim terrorists which leads to an emotional conversation with Carrie.
70) Eric Cartman – South Park

Actor: Trey Parker
Reason: Despite being a 10 year old kid, Cartman is an absolute schemer with a filthy mouth who always tries to act high and mighty around his friends particularly when coming up with crazy ideas. Though the others try to ignore him, he always manages to drag them into difficult situations.
Best Moment: His horrifying revenge on bully Scott Tenorman is one of the show's most shocking scenes.
69) Steve McDonald – Coronation Street

Actor: Simon Gregson
Reason: Originally conceived as a bad boy, Steve has ended up becoming one of Corrie's greatest characters particularly in the past decade. Though he has had to deal with issues regarding his relationships and responsibilities, he often comes out on top when conveying a humourous personality that always raises a smile.
Best Moment: His hilarious fight with best mate Lloyd upon discovering that he has been sleeping with his mum Liz.
68) Lilith Sternin Crane – Cheers

Actor: Bebe Neuwirth
Reason: Originally brought in for a one-off appearance, Lilith became the perfect foil for fellow psychiatrist and eventual husband Frasier Crane. Her cold, monotone-speaking personality often dominated many scenes of Cheers which led to Neuwith winning two Emmys for her marvellous performance.
Best Moment: During an on-air debate over her new book, Lilith goes against type by attempting to seduce Sam. "Let the buttons fly!"
67) Edmund Blackadder – Blackadder

Actor: Rowan Atkinson
Reason: In his quest for authority, Blackadder encounters many problems over the course of four different time periods especially when having to deal with moronic individuals like Baldrick. Atkinson always excelled at playing strong comedy characters and would go on to play a similar role in another Ben Elton sitcom, The Thin Blue Line.
Best Moment: His surprisingly subtle speech to his troops as he leads them out onto No Man's Land in the programme's final episode.
66) Selina Meyer – Veep

Actor: Julia Louis-Dreyfus
Reason: After the success of Seinfeld and The New Adventures of Old Christine, Louis-Dreyfus continues to prove why she is the queen of American sitcoms with her hilarious performance as the unfortunate vice president. Remarkably, the role of Selina has helped her garner several award wins including three Emmys for Best Lead Actress in a Comedy.
Best Moment: Her hysterical reaction to learning that she will be the new President of the United States.
65) Lou DePalma – Taxi

Actor: Danny DeVito
Reason: He may be a small fellow but Lou De Palma is a mean-spirited man who always likes to bark out orders to his long-suffering cabbies. Had he been played by a taller man, the character wouldn't have worked but DeVito does a brilliant job of being authoritative but also showing a bit of compassion for those working under him.
Best Moment: Stepping out of the cab pit to stop Alex which introduces us to his true physical appearance in the pilot episode.
64) Jamie Lannister – Game of Thrones

Actor: Nikolaj Coster-Waldau
Reason: After pushing Bran Stark out of a window in the pilot episode, Jamie looked as though he'd end up being a sadistic character. Incredibly though, the loss of his right hand in Series 3 changes his perspective on life and he ends up becoming a more compelling figure amidst more darker characters like Joffrey and Ramsay Bolton.
Best Moment: Telling the emotional story of how he became Kingslayer to Brienne as the pair share a bath together. A mesmerising turn from Coster-Waldau.
63) Dave Lister – Red Dwarf

Actor: Craig Charles
Reason: The cheeky-chappy scouser somehow survives Red Dwarf's radiation leak and ends up taking command of the ship over the course of several series. His humourous exchanges with other characters like the smarmy Rimmer always entertain as does his love for dreadlocks and chicken vindaloos.
Best Moment: An unfortunate incident involving a polymorph which somehow enters his trousers….
62) Mark Corrigan – Peep Show
Actor: David Mitchell
Reason: Mark has a tendency of being careful with his life yet he ends up having sudden bursts of erratic behaviour which often leave him humiliated. Many of us cringe when he tries to explain embarrassing situations to the likes of his love interest Sophie but he also has to deal with the lazy attitude of his flatmate Jeremy.
Best Moment: Trapped in his own toilet by Jeremy, Mark hilariously shouts out for boss Alan Johnson to come to his rescue.
61) Ray Donovan – Ray Donovan

Actor: Liev Schreiber
Reason: A smooth but violent man, Ray is tasked with fixing his client's problems but also has to to deal with his own troubles regarding his expanded family. However, his aggressive personality often complicates matters further especially when his con father Mick returns after time in prison.
Best Moment: Ray loses it at Connor's party in a tour-de-force performance from Schreiber.
60) Hank Hill – King of the Hill

Actor: Mike Judge
Reason: A wise yet naive man, Hank maintains his responsibility as head of the Hill residence as well as being loyal to both his company Stickland Propane and Propane Accessories and his dysfunctional group of friends. Judge did well to create a cartoon dad who is never depicted as a complete idiot unlike Homer Simpson and Peter Griffin.
Best Moment: His unfortunate encounter with a lustful dolphin, I tell you what.
59) Norm Peterson – Cheers

Actor: George Wendt
Reason: A cult figure for many sitcom fans, Norm is an iconic character whose name is greeted every-time he enters the Cheers establishment over the course of 11 seasons. If he isn't drinking or insulting his unseen wife Vera, he will offer useful advice to his friends even if it's in exchange for more booze.
Best Moment: Being the lucky recipient of an accidental snog from Rebecca Howe which leads to a hilarious exchange of words.
58) Mike Ehrmantraut – Breaking Bad /
Better Call Saul

Actor: Jonathan Banks
Reason: Grizzled but tough, Mike has the ability to get people like Walt and Jesse out of bad situations especially when violence is involved. Ultimately we come to admire him as a bad-ass individual looking out for his granddaughter but his job produces more problems that eventually lead to his downfall.
Best Moment: In Better Call Saul, Mike finally confesses to his daughter-in-law about what happened to his son resulting in a powerhouse performance from the underrated Banks.
57) Father Jack Hackett – Father Ted

Actor: Frank Kelly
Reason: A fecking legend to many sitcom fans, Jack is undeniably grotesque and a pain in the ARSE to Ted and Dougal but he always makes us laugh with his constant curses and a terrible obsession with DRINK! Amazing when you consider how different the late Frank Kelly was in real life.
Best Moment: The above clip which sees Jack struggle to say different words other than drink, feck, arse and girls!
56) Cliff Clavin – Cheers

Actor: John Ratzenberger
Reason: Postal worker Cliff is intelligent but struggles to maintain a social life outside the Cheers bar and is often subjected to cruel insults from Carla and being smothered by his adoring mother. Since Cheers, Ratzenberger has gone on to contribute his vocal talent to the Pixar films which include voicing Toy Story's Hamm.
Best Moment: Trying to say nice things to his friends only to be given brief electrical shocks by his therapist.
55) Cameron Tucker – Modern Family

Actor: Eric Stonestreet
Reason: The bubbly and sometimes-paranoid Cam is one of the standout characters of the excellent series Modern Family. His dysfunctional relationship with partner Mitchell ends up being one of the show's main highlights as the pair occasionally bicker about all aspects of life yet still remain devoted to each other.
Best Moment: Cameron's hysterical attempt to break open the window after baby Lilly gets locked in the car.
54) Corporal Jack Jones – Dad's Army

Actor: Clive Dunn
Reason: The calamitous butcher / Lance Corporal was a favourite with Dad's Army fans particularly when reminiscing about his days in the Sudan. Though he becomes a real nuisance for the disgruntled Captain Mainwaring, Jones always shows loyalty to his platoon and often volunteers to take on dangerous missions with disastrous consequences.
Best Moment: Falsely believing that he is about to die when he hears singing voices that are actually the church choir next door.
53) Father Dougal McGuire – Father Ted

Actor: Ardal O'Hanlon
Reason: The dopey but lovable Dougal may not be fully aware of his responsibilities as a priest but he always offers plenty of advice to his good friend Ted. Needless to say, this advice doesn't always make a lot of sense but without him, Ted may well have struggled to carry the cult sitcom on his own! It's just a pity O'Hanlon has struggled to replicate his work elsewhere.
Best Moment: After a torrid day driving a milk van with a bomb strapped to it, Dougal wakes up in the middle of the night and says; "Those women were in the nip!"
52) Norma – The Royle Family
Actor: Liz Smith
Reason: Easily television's favourite British nan, Norma wants to be treated like the Queen of Sheba by her family but she also has to endure crude remarks from her harsh son-in-law Jim. However, her eventual fate in one of the Royle Family Christmas specials would leave a lot of viewers pretty emotional. Smashing performance from the wonderful Smith.
Best Moment: From the above clip, Nana gets a bit too hysterical about remembering a celebrity's name resulting in an accidental breakage of wind….
51) Jim Ignatowski – Taxi

Actor: Christopher Lloyd
Reason: Before appearing as the erratic Doc. Brown in the Back to the Future film trilogy, Lloyd became an instant hit with television audiences thanks to his riotous turn as gentle but dim-witted taxi driver Jim Ignatowski. A lot of his bizarre behaviour stems from his excessive use of drugs but that only made the character more of a blast to watch on screen.
Best Moment: The infamous Yellow Light scene in which Jim tries to get through a driving lesson exam only to misinterpret Bobby's advice about "slowing down".
---
Thank you all for reading this first part of my list, I hope you like the new style. Part 2 will be released at some point next week!