With the decade almost over, I have decided the form the 'Craigy' awards which celebrate the best of film and television over the past ten years.
The big-screen is the centre of attention this time with films like Avengers: Endgame, The King's Speech and Les Miserables amongst the major winners.
This first edition of the film awards centres on various categories including "Best Musical Sequence of the Decade", "Best Kiss of the Decade" and "Best Hero / Villain of the Decade".
As previously mentioned in the TV articles, I have created a special drop-down option that enables readers to choose the category they want rather than scrolling down. With all said and done then….
Best Use of Song in a Film
KINGSMAN: THE SECRET SERVICE, "Free Bird"

OTHER NOMINEES:
BOHEMIAN RHAPSODY, "Radio Ga Ga"
DADDY'S HOME 2, "Do They Know It's Christmas?"
FOUR LIONS, "Dancing in the Moonlight"
GUARDIANS OF THE GALAXY, "Come and Get Your Love"
THE INBETWEENERS MOVIE, "We No Speak Americano"
PRIDE, "Shame, Shame, Shame"
TED, "Flash"
THIS IS THE END, "Everybody (Backstreet's Back)"
THOR: RAGNORAK, "Immigrant Song"
Best Musical Sequence of the Decade
ROCKETMAN, "Saturday Night's Alright for Fighting"
OTHER NOMINEES:
BEAUTY AND THE BEAST, "Be Our Guest"
LA LA LAND, "Another Day of Sun"
LES MISERABLES, "I Dreamed a Dream"
LES MISERABLES, "One Day More"
MARY POPPINS RETURNS, "Can You Imagine That?"
THE MUPPETS, "Life's A Happy Song"
PADDINGTON 2, "Rain on the Roof"
ROCKETMAN, "Crocodile Rock"
WILD ROSE, "Glasgow (No Place Like Home)"
Best Fight Sequence of the Decade
CAPTAIN AMERICA: CIVIL WAR, Airport showdown
OTHER NOMINEES:
ANT-MAN, Paul Rudd vs. Corey Stoll
THE AVENGERS, Robert Downey Jr. vs. Chris Evans vs. Chris Hemsworth
CAPTAIN AMERICA: THE WINTER SOLDIER, Chris Evans vs. Hydra soldiers
THE DARK KNIGHT RISES, Christian Bale vs. Tom Hardy
DAWN OF THE PLANET OF THE APES, Andy Serkis vs. Toby Kebbell
HARRY POTTER AND THE DEATHLY HALLOWS PART II, Daniel Radcliffe vs. Ralph Fiennes
THE REVENANT, Leonardo DiCaprio vs. Tom Hardy
SPECTRE, Daniel Craig vs. Dave Baustista
STAR WARS: THE LAST JEDI, Daisy Ridley & Adam Driver vs. Snoke guards
Best Sex Scene of the Decade
BLUE IS THE WARMEST COLOR, Adele Exarchopoulos & Lea Seydoux
OTHER NOMINEES:
BLACK SWAN, Mila Kunis & Natalie Portman
CAROL, Cate Blanchett & Rooney Mara
DEADPOOL, Monica Baccarin & Ryan Reynolds
THE GIRL WITH THE DRAGON TATTOO, Daniel Craig & Rooney Mara
GONE GIRL, Neil Patrick Harris & Rosamund Pike
ROCKETMAN, Taron Egerton & Richard Madden
SAUSAGE PARTY, Salma Hayek & Jonah Hill & Seth Rogen & Kristen Wiig
THE SHAPE OF WATER, Sally Hawkins & Doug Jones
STRONGER, Jake Gyllenhaal & Tatiana Maslany
Best Kiss of the Decade
BLACK SWAN, Mila Kunis & Natalie Portman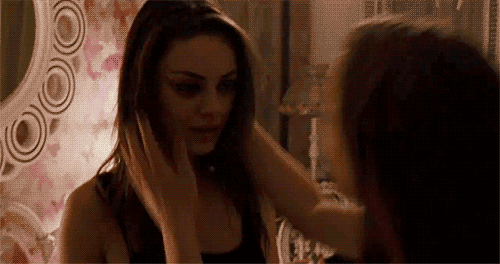 OTHER NOMINEES:
ANT-MAN AND THE WASP, Evangeline Lilly & Paul Rudd
BLUE IS THE WARMEST COLOR, Adele Exarchopoulos & Lea Seydoux
CAROL, Cate Blanchett & Rooney Mara
THE DARK KNIGHT RISES, Christian Bale & Anne Hathaway
DJANGO UNCHAINED, Jamie Foxx & Kerry Washington
HARRY POTTER AND THE DEATHLY HALLOWS: PART II, Rupert Grint & Emma Watson
READY PLAYER ONE, Olivia Cooke & Tye Sheridan
ROCKETMAN, Taron Egerton & Richard Madden
SILVER LININGS PLAYBOOK, Bradley Cooper & Jennifer Lawrence
Film Couple of the Decade
SILVER LININGS PLAYBOOK, Bradley Cooper & Jennifer Lawrence
OTHER NOMINEES:
CAROL, Cate Blanchett & Rooney Mara
CRAZY RICH ASIANS, Henry Golding & Constance Wu
CREED, Michael B. Jordan & Tessa Thompson
DJANGO UNCHAINED, Jamie Foxx & Kerry Washington
HACKSAW RIDGE, Andrew Garfield & Teresa Palmer
THE KING'S SPEECH, Helena Bonham Carter & Colin Firth
MOONRISE KINGDOM, Jared Gillman & Kara Hayward
THE SHAPE OF WATER, Sally Hawkins & Doug Jones
SING STREET, Lucy Boynton & Ferdia Walsh-Peelo
Best On-Screen Partnership of the Decade
THE KING'S SPEECH, Colin Firth & Geoffrey Rush
OTHER NOMINEES:
CREED, Michael B. Jordan & Sylvester Stallone
DJANGO UNCHAINED, Jamie Foxx & Christoph Waltz
EDDIE THE EAGLE, Taron Egerton & Hugh Jackman
THE GRAND BUDAPEST HOTEL, Ralph Fiennes & Tony Revolori
GREEN BOOK, Mahershala Ali & Viggo Mortensen
THE INTOUCHABLES, Francois Cluzet & Omar Sy
PHILOMENA, Steve Coogan & Judi Dench
ROOM, Brie Larson & Jacob Tremblay
ZOOTOPIA, Jason Bateman & Ginnifer Goodwin
Most Emotional Death of the Decade
Robert Downey Jr., AVENGERS: ENDGAME
OTHER NOMINEES:
Richard Armitage, THE HOBBIT: THE BATTLE OF THE FIVE ARMIES
Judi Dench, SKYFALL
Harrison Ford, STAR WARS: THE FORCE AWAKENS
Anne Hathaway, LES MISERABLES
Daniel Henny, BIG HERO 6
Richard Kind, INSIDE OUT
Rachel McAdams, SOUTHPAW
Alan Rickman, HARRY POTTER AND THE DEATHLY HALLOWS: PART II
Andy Serkis, WAR FOR THE PLANET OF THE APES
Overrated Film of the Decade
MOONLIGHT
OTHER NOMINEES:
ARRIVAL
THE BIG SHORT
BOYHOOD
THE MASTER
MR. TURNER
RANGO
SPIDER-MAN: INTO THE SPIDER-VERSE
TINKER TAILOR SOLDIER SPY
WINTER'S BONE
Underrated Film of the Decade
THE EXPENDABLES 2
OTHER NOMINEES:
DADDY'S HOME 2
THE FOUNDER
GAME NIGHT
MILLION DOLLAR ARM
PAUL
SOLO: A STAR WARS STORY
STRONGER
SUFFRAGETTE
THE ZOOKEEPER'S WIFE
Best Youth Performance of the Decade
Tom Holland, THE IMPOSSIBLE
OTHER NOMINEES:
Julia Butters, ONCE UPON A TIME IN HOLLYWOOD
Elsie Fisher, EIGHTH GRADE
Jared Gilman, MOONRISE KINGDOM
Oona Laurence, SOUTHPAW

Chloë Grace Moretz

, KICK-ASS
Sunny Pawar, LION
Hailee Steinfeld, TRUE GRIT
Jacob Tremblay, ROOM
Quvenzhane Wallis, BEASTS OF THE SOUTHERN WILD
Film Hero of the Decade
Robert Downey Jr., AVENGERS: ENDGAME
OTHER NOMINEES:
Christian Bale, THE DARK KNIGHT RISES
Jessica Chastain, ZERO DARK THIRTY
Daniel Craig, SPECTRE
Chris Evans, CAPTAIN AMERICA: THE WINTER SOLDIER
Jamie Foxx, DJANGO UNCHAINED
Andrew Garfield, HACKSAW RIDGE
Tom Holland, SPIDER-MAN: HOMECOMING
Daniel Radcliffe, HARRY POTTER AND THE DEATHLY HALLOWS: PART II
Daisy Ridley, STAR WARS: THE FORCE AWAKENS
Film Villain of the Decade
Josh Brolin, AVENGERS: INFINITY WAR
OTHER NOMINEES:
Javier Bardem, SKYFALL

Ned Beatty, TOY STORY 3

Leonardo DiCaprio, DJANGO UNCHAINED
Adam Driver, STAR WARS: THE FORCE AWAKENS

Michael Fassbender, 12 YEARS A SLAVE

Hugh Grant, PADDINGTON 2

Bryce Dallas Howard, THE HELP
Ezra Miller, WE NEED TO TALK ABOUT KEVIN
Rosamund Pike, GONE GIRL
Film Scene of the Decade
AVENGERS: ENDGAME, The Portals
OTHER NOMINEES:
THE ADVENTURES OF TIN TIN: THE SECRET OF THE UNICORN, The kestrel chase
BOHEMIAN RHAPSODY, "We Are the Champions"
HARRY POTTER AND THE DEATHLY HALLOWS: PART II, Harry unlocks Snape's memories
THE IMPOSSIBLE, The tsunami sequence
THE KING'S SPEECH, King George addresses the nation
KINGSMAN: THE SECRET SERVICE, The church massacre
LES MISERABLES, "I Dreamed a Dream"
THE REVENANT, The bear attack
TOY STORY 3, The incinerator sequence